Hi there! My name is Andriy Chumachenko, and I'm the co-founder of Netpeak Agency. In 2022, our company was ranked second in the world in digital marketing services, according to Clutch. We started as a small business in Ukraine, and today, we work in all major areas of online marketing.
To get where we are today, we had to scale our services and develop new ones. We did it the traditional way at first, and then a more effective but unconventional way. Here, I will tell you more about our method of trading full freedom for full responsibility.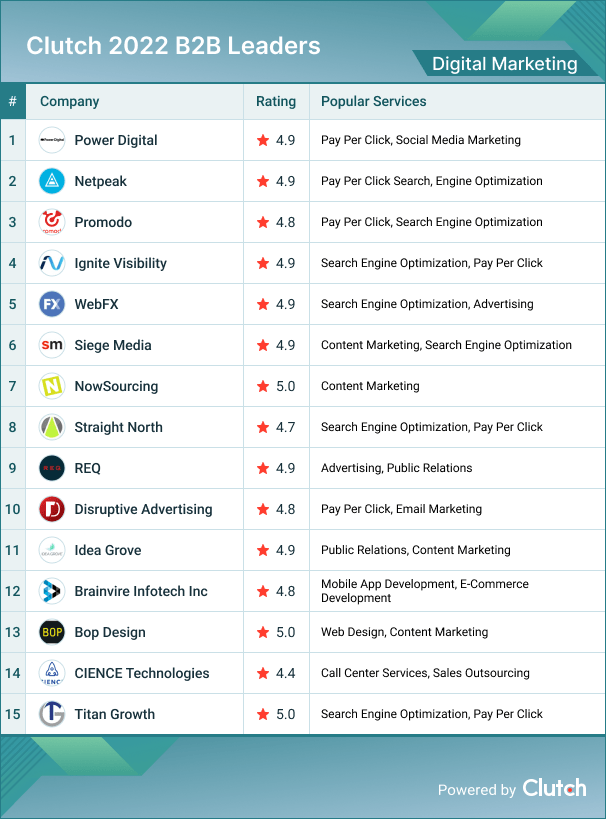 Effective scaling – finding the right service manager
One of Netpeak's main goals is to promote the client's business and help them grow their profits. That is why it is important for us to provide as many services as possible. We want to be able to influence all major aspects of online promotion.
Having become Ukrainian market leaders in SEO promotion and contextual advertising, conquering new markets, we decided to expand our portfolio of services. And we first tried the traditional method. For instance, if we already had a Head of SEO, we entrusted them with developing a new service such as email marketing. But executives are grounded in profit. In a situation where SEO yields 40% of revenue and email yields 0% but requires a lot of time and resources to develop, the executive will naturally focus on something that has been working well for a long time, and the new service will be neglected.
Then we decided to try a different way. We defined a specific department head for each service, who is a person from the team with their own offer and incentive system. This department head receives investment from Netpeak, complete freedom of action, and the task of developing the new service. With this approach, we began to succeed. Now, in addition to traditional SEO and online advertising, the agency has several important areas of focus:
Email and Retention Marketing which include mass and automated emails, SMS, Viber mailing lists, and push notifications.
SMM for brand promotion using social media, targeted advertising, and influencer marketing.
Mobile App Marketing. We do ASO (App Store Optimization) both for iOS and Android mobile apps, boost app installs, and increase in-app conversion rates. We work with ad networks, app stores, and analytics.
Web Analytics involves migration to Google Analytics 4, end-to-end analytics, and data visualization. We can also identify growth points for your website and improve your conversion rate.
SERM or ORM (online reputation management) creates a positive company or brand image by influencing branded search engine results and removing negative content.
Each of these services has been assigned an executive who is focused on its development. This person works as the CEO of a small internal agency, and the other Netpeak departments act as partners for him. What do I mean by that?
How the internal unit economy system works at Netpeak
As I said before, the new department head (CEO) receives an investment and certain goals from Netpeak. For example, to break even in a year or to bring in a certain number of clients. From there, he builds their own plan for developing the business. No one interferes in this process. At the same time, if the CEO needs online advertising or PR services, they can order such services from the appropriate units within the Netpeak agency.
These are the basic principles of our unit economy:
Each department operates as a separate company.
The department head is the company CEO.
Different departments within Netpeak sell services to each other. They do it not at cost but at market prices. And no one works for free.
This process allows for a kind of "hunger games" in which the strongest survive — the most effective heads and services.
Netpeak also profits. At worst, we don't recoup the investment in the new service, but we get to test some hypotheses. And in the best case scenario, the investment is recouped, and the agency gets a new, quality service run by a manager and team who know how to make money.
This approach helped us survive the full-scale invasion of Ukraine. The branching scheme made us resilient. When some units and teams could not work due to external factors, others continued to provide services to, for example, U.S. clients. And because everyone was used to being independent, nothing collapsed.

Moreover, even after the full-scale invasion began, we continued to launch and develop new services, such as:
Marketplace promotion (Amazon, eBay, Etsy).
Marketing consulting.
Leadgen for B2B.
For more examples of our work, read our case studies on how we launched C-level consulting from CMO On Demand or used a tool like Display&Video360 to maximize reach in media advertising.
As you can see, the unit economy system allowed us to effectively develop our company. Perhaps this principle will be useful for your business as well.